"Built to work! - Built to last!"
Iroquois stake / platform bodies are constructed of 10 ga. steel rails with 3" or 4" (your choice) structural steel crossmembers on 16" centers.
To fit your specific needs, select either 4" or 6" structural steel longsills.
IMC platform bodies are available in a variety of configurations with lengths from 8 ft. to 26 ft. and four different widths, 84 in. to 96 in. All bodies are undercoated and primed.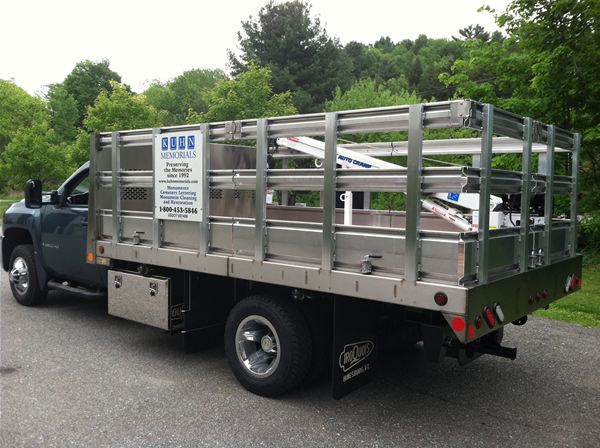 10 ga. steel rails

Crossmembers are 3" or 4" (your choice) structural channel on 16" centers

Longsills are 4" or 6" (your choice) structural channel

1 1/2" pressure treated southern hard pine floor

Bodies are primed and undercoated

Clearance lights and reflectors
Lengths
Widths
84 in. wide

87 in wide

95 in. wide

96 in. wide
Floors
1 1/2" pressure treated hard pine

1 1/8" apitong hardwood

10 ga. smooth steel

3/16" smooth steel

1/8" diamond plate

3/16" diamond plate

steel (smooth or diamond plate) over wood
Side / End racks
wood slats

steel slats

solid steel
Headboards / bulkheads
42", 48", 54" or 60" high

braced forward or rearward

with / without screen window

with / without cab protector
Choice of floors: 1 1/8" apitong hardwood, 10 ga & 3/16" smooth steel, 1/8" & 3/16" diamond plate

Slatted wood, slatted steel or solid steel sides and/or ends

Headboards / bulkheads

Cab protectors

Intergrated screen window

Swinging side or end sections with hold back hardware

Dump body style tailgate

Sliding winch track, sliding cargo winches

ICC underride

Paint - black or color to match truck

Many customization options - make your truck fit your needs