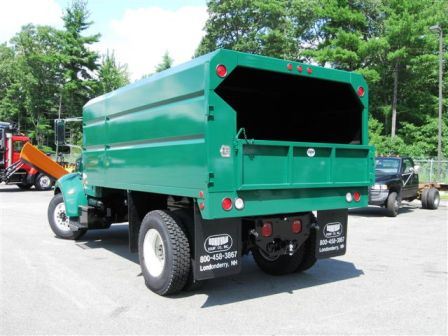 Iroquois Chip / Forestry bodies are built to the highest industry standards.
Select from 4 different body lengths to match your truck and work needs.
Standard specifications include air vents, inside ladder compartment with tool shelf, swinging tailgate with provisions for locking in the open or closed position and coal tar epoxy coating in the load space.
56" height

96" width

10 ga. front and side panels with reinforcing ribs

10 ga. steel reinforced roof panel

10 ga. steel floor with air vents

3" structural channel crossmembers on 18" centers

8" structural channel longsills

Rear frame: 3"x 1/4" uprights, 3"x 1/4" header

Boxed section rear skirt

Tailgate is 10 ga. steel, swings to the side with provisions for locking in the open and closed position

Inside ladder compartment with tool shelf

All lights furnished to FMVSS 108

Load space is coated in coal tar epoxy

Exterior primer sealer
Length: 108" / 120" / 144" / 168"

Height: 56"

Width: 96"

10 ga. front & side panels with reinforcing ribs

10 ga. steel reinforced roof panel

10 ga. steel floor with air vents

3" structural channel crossmembers on 18" centers

8" structural channel longsills

Rear frame: 3"x 3" x1/4" uprights, 3"x 6"x 1/4" header

Boxed section rear skirt

Tailgate is 10 ga. steel, swings to the side with provisions for locking in open and closed positions

Inside ladder compartment with tool shelf

All lights furnished to FMVSS 108

Load space coated with coal tar epoxy

Exterior primer sealed
"I or "L" shape back pack tool boxes, 96" long, 24" wide, 51" high, 2 shelves, 6 rope hooks on curbside, 12 ga steel construction throughout, stainless steel hinge assembly, tamper resistant locking system for all doors, primed.

Cab guard, fully gusseted

Double-acting scissor hoist - 5 different sizes

One or two piece removable roof

Outrigger block holders

Chock block holder for 2 blocks

Exterior paint color of your choice