The SnowDogg VMD series puts the power and versatility of our VX series plows into a package designed for 1/2 ton trucks.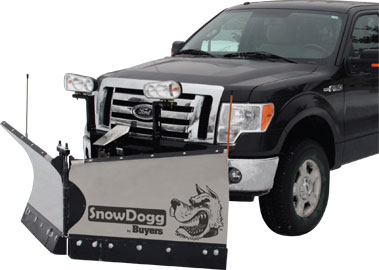 The highest quality components for unmatched performance and durability !
Moldboard -

tough stainless steel, corrosion free blade. 1/4" laser cut steel ribs w/ 2" cross tube spreads load across components, not connections.

Power unit / Hydraulics -

full size SAE std. cartridge valves, oversized 3/8" rubber hoses, integral valve manifold.

Quick Attach / Detach Mounting -

easy to use over-center linkage operated locking pins with foot pedals.

Lift Arm -

35 degree travel provides excellent snow stacking capability.

Trip Edge Design -

for smooth plowing over obstacles.

Adjustable / Removable Jack Stand -

maximum flexibility for a wide range of mounting conditions and surfaces.

Contoured Lift Frame -

for greater ground clearance

Double Angle Cylinders -

for real backdragging.

70 Degree Attack Angle -

provides excellent scraping, rolling and throwing action.

3/8" Cutting Edge -

with replaceable hardened center edge means less time in the shop.

Blade Guides -

wire reinforced - standard.

Plow Lights -

powerful, dual beam halogen plow lights with secure double post mounts.

Digital Controller -

provides excellent one-hand operation with over-size, glove friendly buttons.
Model
Width
Blade
Height
Material
Thickness
Angle
Cylinders
Lift
Cylinder
Kingpin
Size
Width
at Angle
VMD75
90"
27"-33"
SS
.075"
1 1/2" x 12"
1 1/2" x 6"
1"
79"
Model
Ribs
Springs
Trip Style
Cutting
Edge
Weight

1

Deflector
Shoes
VMD75
8
4
Edge
3/8" x 6"
700 lbs.*
Std.
Opt.
1Weight not including truck mount, 40-80 lbs. typical weight, *not including shoes