The SnowDogg TE Series plows bring the best of the HD/EX Series to a reliable trip edge design. This design keeps the snow in front of your plow and provides a smooth tripping action. Standard features include heavy-duty cutting edge, deflector and shoes.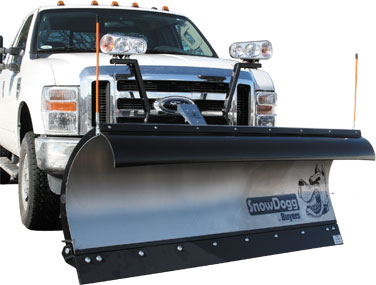 Moldboard - tough stainless steel corrosion free blade. 1/4" laser cut steel ribs with 2" cross tube spreads loads across components, not connections.

Power Unit / Hydraulics -

full size SAE std. cartridge valves, oversized 3/8" rubber hoses, integral valve manifold.

Quick Attach / Detach Mounting - easy to use over center linkage operated locking pins with foot pedals.

Lift Arm - 35 degree of travel provides exceptional snow stacking. Heavy duty 2"x 6" lift cylinder.

Trip Edge Design - for smooth plowing over obstacles.

Adjustable / Removable Jack Stand - maximum flexibility for a wide range of mount ing conditions and surfaces.

Contoured Lift Frame - for greater ground clearance.

70 Degree Attack Angle - provides excellent scraping, rolling and throwing action.

1/2" Cutting Edge - means less time in the shop and more time on the road.

Snow Deflector - keeps snow off the windshield - standard.

Blade Guides - wire reinforced - standard.

Plow Lights - powerful, dual beam halogen plow lights with secure double post mounts.

Digital Controller

- provides comfortable one handed operation with oversized, glove friendly buttons.
Model
Width
Blade
Height
Material
Thickness
Angle
Cylinders
Kingpin
Size
Width
at Angle
TE75
90"
31"
SS
.105"
1-1/2" x 12"
1-1/8"
78"
TE80
96"
31"
SS
.105"
1-1/2" x 12"
1-1/8"
83"