Classic II Steel Service Bodies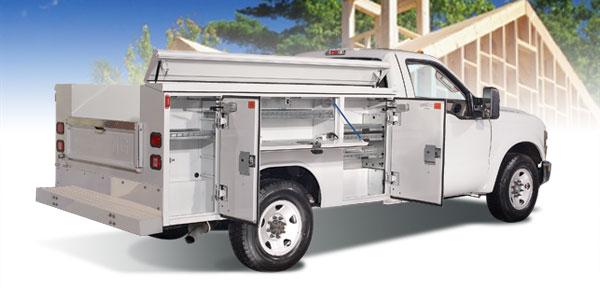 Classic II Steel Bodies
Reading's Classic II Steel Service Bodies are constructed from the highest quality A40-A60 coating weight steel to assure the very best corrosion protection for the long haul. Each Classic II Steel Service Body comes with a 6 year limited warranty. The Classic II Steel Service Body, available for both single rear wheel and dual rear cutaway vans, offers features not found on any other service body. A few of these features include an exclusive, patented, secure internal compartment hinge that is easy to replace without special tools and is fully adjustable. Other features include A40-A60 coating weight steel pressed diamond plate floor, and state of the art E-Coat priming system and durable Powder Coat finish
Available in single rear wheel or dual rear wheel configurations, with several different compartment layouts.
There may be other service bodies, but there's only one
Classic II.
Built with:
A40-A60 coating weight pressed diamond plate steel floor & tailgate inner panel.

Slam action tailgate.

Pooched anti-slip surface bumper.

Modern rectangular tail lights.

Removable stainless steel tailgate knee brace.

Rugged understructure.

Heavy duty compartment doors.

Exclusive dual-Pro seal system.

Patented hidden hinges.

Complete stainless steel rotary locks.

Nitrogen strut door holders.

Aluma-fil fuel filler.
---
Model

Approx. WT.

Cab-To-
Axle

A

B

C

D

Approx. Compartment Clear Door Openings

E
F
G
H
I
Standard
**78-SWs
858 lbs.
40"
18"
42"
18"
78"
12-1/2" x 35-1/4"
40-1/2" x 14"
12-1/2" x 35-1/4"
56-1/2" x 14"
12-1/2" x 18-1/8"
*98-SW
1026 lbs.
56"
28"
48"
22"
98"
22-1/2" x 35-1/4"
46-1/2" x 14"
16-1/2" x 35-1/4"
66-1/2" x 14"
12-1/2" x 18-1/8"
*U98-SWs
1026 lbs.
56"
28"
48"
22"
98"
22-1/2" x 35-1/4"
46-1/2" x 14"
16-1/2" x 35-1/4"
66-1/2" x 14"
16-1/2" x 18-1/8"
*U108-SWs
1045 lbs.
60"
34-3/4"
47"
26-1/4"
108"
29-1/4" x 35-1/4"
45-1/2" x 14"
20-3/4" x 35-1/4"
69-3/4" x 14"
20-3/4" x 18-1/8"
Low Profile
**LP-785Ws
818 lbs.
40"
18"
42"
18"
78"
12-1/2" x 30-1/4"
40-1/2" x 9"
12-1/2" x 30-1/4"
56-1/2" x 9"
16-1/2" x 18-1/8"
LP98-SWs
976 lbs.
56"
28"
48"
22"
98"
22-1/2" x 30-1/4"
46-1/2" x 9"
16-1/2" x 30-1/4"
66-1/2" x 9"
16-1/2" x 18-1/8"
*ULP98SWs
976 lbs.
56"
28"
48"
22"
98"
22-1/2" x 30-1/4"
46-1/2" x 9"
16-1/2" x 30-1/4"
66-1/2" x 9"
16-1/2" x 18-1/8"
*ULP108-SWs
990 lbs.
60"
34-3/4"
47"
26-1/4"
108"
29-1/4" x 30-1/4"
45-1/2" x 9"
20-3/4" x 30-1/4"
69-3/4" x 9"
20-3/4" x 18-1/8"
Installer's notes
* Universal mounting
** E-Z mounting installation not available on these models
s Equipped with spring shackle offsets (see diagrams below). Contact your Reading Distributor for dimensions of offsets
^ Available in aluminum
Classic II options:
Latch-matic key fob with optional audible alarm system

Compartment lighting system

Drawer units
- Extend-A-Shelf
- E-Z Glide
- Grip n' Glide
- Lighted Pooched Anti-Slip
- Pooched Anti-Slip With Recess
- Lighted Pooched Anti-Slip With Recess
- Deck Plate Step
- Deck Plate Step With Recess
- Safety Step
- Safety Step With Recess