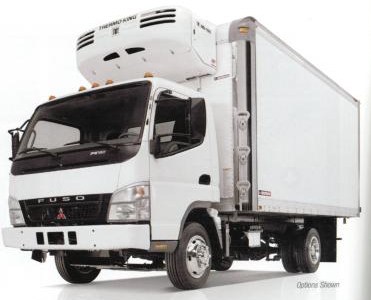 Industry leading solutions for refrigerated transport !
Morgan mounts refrigeration unit higher with heavy duty bracing and support...increasing evaporator air flow and interior cargo space. State-of-the-art foaming process, utilizes customized wall presses and poured in place polyurethane foam in floors, walls and ceilings, resulting in extremely straight ceiling and walls, a consistent foam density throughout the body and superior thermal integrity.
Body Lengths - from 10' to 30' ( two foot increments )

Body Widths - 96" & 102" (outside)

Body Heights - 6 different heights, from 79" to 109"

Subframe - 3" I-beam crossmembers 12" centers with 4" longsill, 4" foam insulation, glassboard subpan

Floor - 1 1/4" extruded aluminum with 6" scuff, 4 drains with kazoos

Side Walls - sheet and post, .040" aluminum sheet, aluminum Z-posts on 16" centers. standard foam thickness is 3" poured polyurethane insulation.

Liner - seamless glassboard fastener free interior walls for thermal integrity.

Front End Assembly - aluminum Z-posts, one-piece thermoplastic dormer and front top radius, with extra heavy steel support and lateral brace for refrigeration unit, stainless steel corner radius, 4" foam insulation. steps and grab handle for access to refrigeration unit.

Rear Frame - exclusive thermal breaks on floors, thresholds & doors, built in clearance light protector & rain deflector. roadside & curbside grab handles.

Roof Assembly - .032" aluminum sheet with 3" insulation, extruded aluminum top rail, alum. Z-posts roof bows on 24" centers, seamless glassboard ceiling liner. stainless steel recessed dome light with switch in cab.

Rear Door - insulated overhead roll-up door

Under-ride - 5" structural DOT underride with pooched surface



Options that set the standard !
4" & 5" insulation packages available

low mount monorail walkramp

liftgates

refrigeration unit & installation

cargo restaint systems

strip curtains

bulkheads - permanent or removeable

side & rear door options

flooring option

smoothwall construction

custom paint & decal installation

lighting options

galvannealed rear frame

multi-temperature applications

custom side door steps

customized rear bumpers

shelving and rack systems

scuff plate options

maximizer swing side door

pallet guides

cab-mounted or body-mounted refrigeration unit service platform