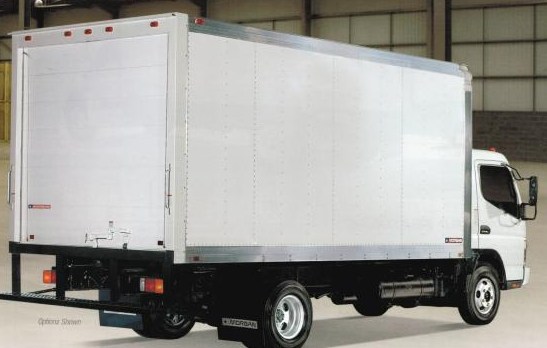 No matter what business environment you compete in, Morgan can custom-create the perfect van body for your business.
Body Lengths: 10 different lengths from 12' up to 30'

Body Width: 96" or 102" (outside)

Body Height: 6 different heights from 79" to 109"

Roof Assembly: .032" one-piece aluminum sheet with anti-snag roof bows and seamless roof capping process for improved adhesive seal at all contact points.

Sidewalls & Front: .040" prepainted white aluminum sheets riveted to vertical steel z-posts on 16" centers.

Floor: 1 1/8" laminated hardwood flooring with 5/16" floor screws on staggered pattern.

Subframe: 4" steel I-beam longsills, 3" steel I-beam crossmembers on 16" centers (12'-16' lengths) or 12" centers & steel wheelpans (18'-26' lengths).

Rear Frame: header design with rain channel/drip rail for clearance light protection. Painted steel threshold with drain holes. Curbside and roadside grab handles.

Front-End Assembly: areodynamic design with contoured Poly-Tuff corner caps, aluminum 9" top radius & 5" corner radius. Streamlined aluminum body extrusions, connectors and rails.

Rear Finish: 5" structural DOT underride with pooched surface.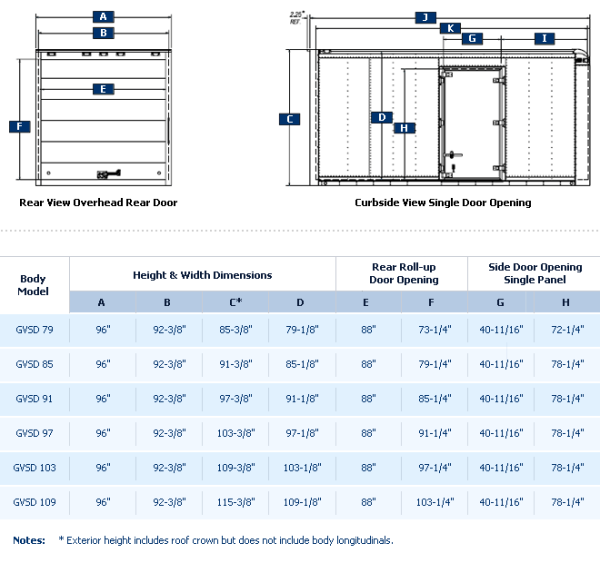 102" wide body

various rear finishes, bumpers, fixed & fold-out steps

wheel boxes

various overhead or panel-style rear & side doors

interior wall cargo restraint systems: tie rings, E-track, F-track & apitong slats

various floor cargo restraint systems: D-rings, bull rings & stake pockets

apitong, laminated wood & diamond plate floors

apitong, hardwood, steel, aluminum & glassboard scuffs

translucent roof

additional crossmembers

stainless steel front corner & top radii

several interior liners

loadholder track - floor & ceiling

tubular, air freight & stainless steel rear frames

many liftgates and walkramps

Smoothwall construction

shelving configurations

LED lighting systems

Maximizer side door, swing, roll-up & sliding with recessed stepwell

reinforced front end

floor varnish

interior lighting

insulation package - for temperature protection

rubber bumper blocks