Platform Bodies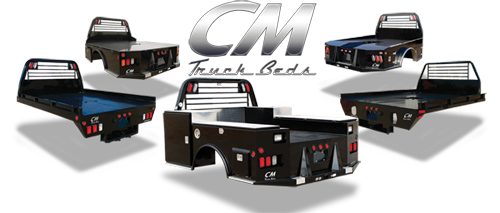 CM Truck Beds are definitely "Ahead of the Curve". Want to know why? Just look at all the reasons:
Style
CM's headache racks follow the curves of the vehicle cabs they are mounted on, which makes them very easy on the eyes. Additionally, CM Truck Bed models are thoroughly and continually researched to complement the ever changing styles of the auto industry and to help CM remain a leader in truck bed design and development.
Strength
CM Truck Beds feature frame rails and crossmembers made of channel - not tubing. The benefits are channel doesn't hold water and is not as conducive to rusting.
Durability & Longevity
CM's powder coating finish process gives CM Truck Beds unmatchable finish durability, longevity and gloss retention.
Versatility
CM's Truck Beds offer five models, loaded with standard features, to fit every need. Options are also available on each model.
SS Model Truck Body
5" steel channel frame drop hitch with full access receiver mount and two punched safety chain holes. Recessed gooseneck ball mounting box with easy access removable cover. Solid rear skirt ~
Info & Pricing